Misc.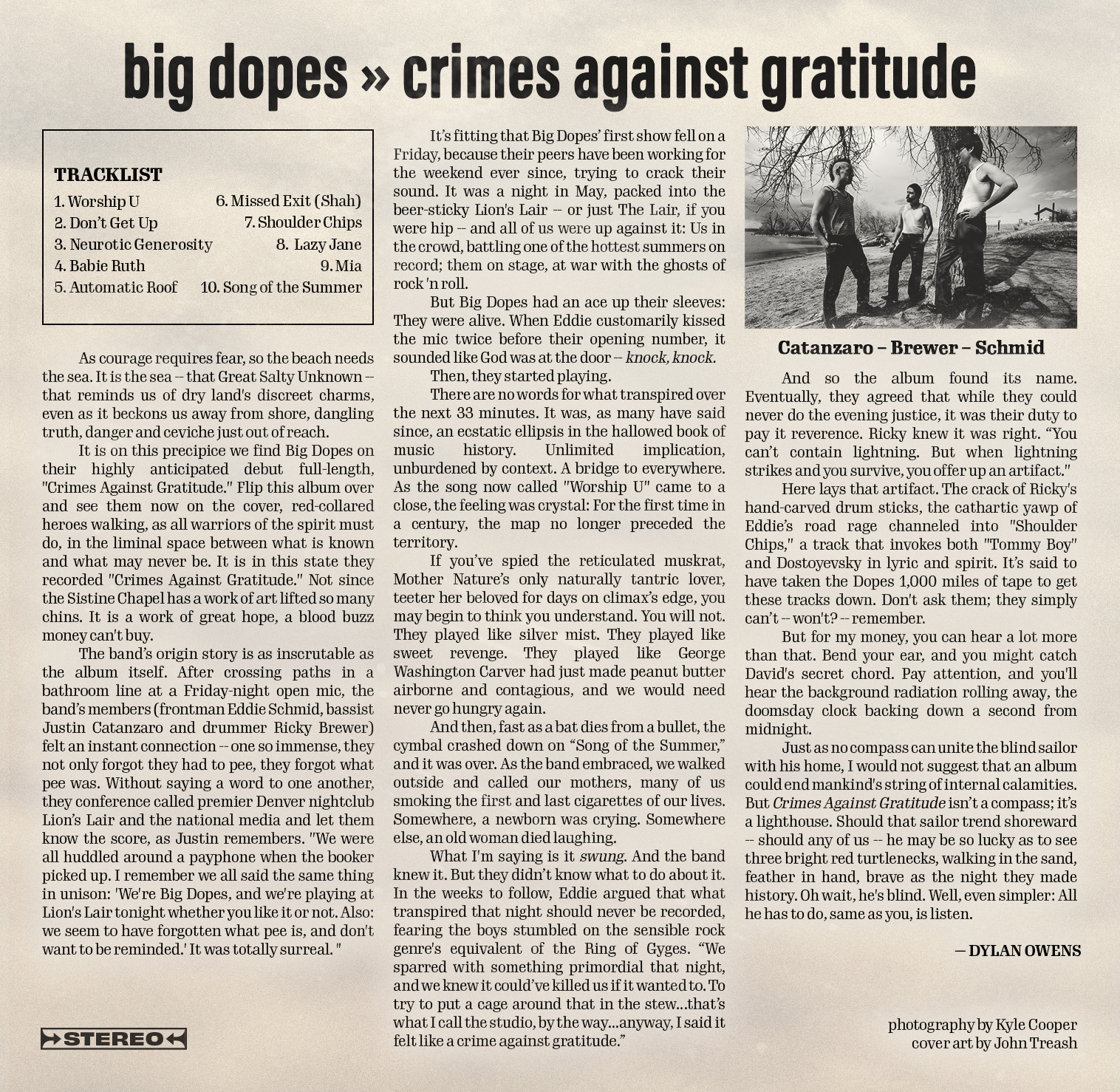 For Big Dopes (2019)
-
Big Dopes frontman Eddie Schmid tasked me with writing fake jazz copy for the back of the band's debut album, "Crimes Against Gratitude." I read the jackets of dozens of jazz albums to get a feel for how they went -- impossibly bombastic, with plenty of quotes -- and put my own spin on it.




Pop/comedy project Babelord shot a man-on-the-street video at a music festival poking fun of the Area 51-storming incident. They needed a pamphlet for it. I obliged.

Store
Esther Perel Metalhead shirt / hoodie
Made from super high-quality Supima cotton from Denver's
Original Favorites
. Printed by
Indy Ink
. Design by
Justin Wood
.
Limited run. Pre-orders through Oct. 18. Expected pre-order ship date: first week of November.
If picking up in Denver, I'll reach out with details.
Size chart:
here
.
---

"Why didn't you tell me?"

I've heard these five words a lot in my life. Yes, sometimes after denying and/or supplying farts at a party all night. But usually, they come after a long emotional radio silence between me and those I care about.

Starting a conversation with men about ~their emotions~ is hard, and that goes double if you're the man. My silence — which has lasted days or years depending on what's eating me — always feels masculine. But it's manufactured silence — the quiet of a pressure cooker, except all your guts are in there.

I'd felt misunderstood. Googling about therapy, I found some interview with Esther Perel. The famed sex therapist talked about men with a tenderness that's been rare post #metoo.

"Boys have to continously prove not only that they aren't women, but that they are real men," she said.

That squared with my life. Almost every day, I've felt I've had to prove my masculinity by smothering emotions, sublimating sadness into anger, and pretending to like the Avengers movies.


The key was to match my inner world with my outer one. I started going to therapy, which was probably the most valuable decision I've ever made for my mental health.

Since then, I've talked to dozens of guy friends about the benefits of therapy. A few have even gone. But it's still a hard sell, for many reasons. Therapy can be costly and confusing to set up. Some therapists just suck. And many people still view it as a sign of weakness.

The reality is the opposite. Expressing emotions is hard, especially if you're a guy. And as that old daddage goes, you gotta be brave to do things you're scared of.

These shirts are a (small) push to change that conversation. The shirt itself is metal as hell. (I mean...look how drippy.) But it's relationship sage Esther Perel — not "Bone Storm" or "Blood Nut" — in that cryptic font. More importantly, all the proceeds here benefit Movember, the leading men's wellness charity.

Is this a circuitous route to get dudes to open up? Absolutely. But if one person leans in to ask whose name's tangled up on their shirt, that's one less conversation we have to start. For guys, that can make all the difference.